Whether you locked yourself out of your home, car or office, AAA Locksmith is always available to help. 
We know how annoying it is when you find yourself locked out. While you might have a spare key somewhere, it might not be easily accessible. That's why we're available 24/7, 365 days a year to help with our emergency lockout services in Daytona Beach.
What Happens after a Lockout?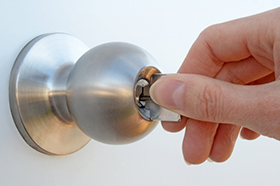 Obviously, your No. 1 priority will be to get back into your home, business or car after a lockout. After we unlock that door for you, though, you need to think about what happens next. If you lost your key, then we can get help new keys made for you. If you need to change out the locks entirely, then we are ready to assist with that as well. For more information on AAA Locksmith's 24-hour emergency locksmith services in Florida, click here.
What to Expect from Your Locksmith
It's important to hire the right locksmith for your protection. For your peace of mind, AAA Locksmith is bonded, licensed and insured in Florida's Volusia and Flagler counties. Additionally, we handle all jobs – there's no problem too big or too small. All you have to do is give us a call anytime you are in need of our services, and we will take care of you!
Save